Introduction to IPL
Have you ever had that feeling like your skin could use a boost or a fresh start? There are so many products out on the market that promise results but can seem like most of the time they just don't do much.
Dr. K Beauty in Las Vegas, NV offers the increasingly popular, non-invasive treatment known as the IPL Photofacial as an effective and simple way to give her patients the beautiful glowing skin they deserve.
What is IPL?
IPL (Intense Pulsed Light) Therapy is an aesthetic treatment that penetrates the deeper layers of your skin which helps encourage healing from the inside out. The treatment uses a special handheld device that emits quick pulses of broad-spectrum light when it makes contact with your skin. This specific type of light helps pull out impurities (such as hyperpigmentation or sun spots) without doing any damage to the surrounding tissue.
What are the Benefits of IPL?
Some of the benefits of receiving IPL therapy in Las Vegas by Dr. K include:
Creates a youthful appearance
Easier and cheaper than surgery
Fast recovery time
No downtime
Non-invasive treatments
Reduces severe acne
Reduces skin redness and skin flushing
Short treatment time (30 minutes)
The treatment is painless
Who are the Best Candidates for IPL?
As one of the leading medical spas in Las Vegas, we've had the pleasure of treating thousands of patients with our aesthetic solutions. The best candidates for IPL treatment are individuals looking to treat the following skin conditions:
Age spots
Fine lines/ Wrinkles
Freckles
List Item
Rosacea
Skin firmness
Small blood vessels
Sun damage
Uneven skin texture
Good candidates for IPL should also be in overall good health and have realistic expectations for the treatment.
While anyone can get this treatment, those with light to medium skin tones have better results. If you currently suffer from melasma, we can not recommend this treatment as it could worsen your condition. You should also avoid IPL if you are currently pregnant, have severe acne, or are currently taking Accutane or similar medications.
What's the First Step?
If you're in the Las Vegas area and are ready to get IPL Therapy, the first thing you will need to do is contact our practice to schedule your consultation. When you come into our boutique office, you will meet with Dr. K who will go over your medical history, ask you about what you are looking to achieve from the treatment, and answer any questions or concerns you may have. She will also examine the area or areas that you are trying to treat so a plan can be crafted specifically to meet your needs. If you agree with her final evaluation, then you will be able to start your first session right then or schedule a better date with our Patient Coordinator.
When discussing your medical history, it is very important that you are honest with Dr. K. While this is an overall safe procedure, there are certain things that can potentially have a negative effect on the outcome of your IPL Therapy and your recovery.
What to Expect on the Day of IPL
At the beginning of your treatment, Dr. K will begin by cleaning the targeted and surrounding area. Next, a cooling gel will be rubbed onto your skin and you will be provided with dark glasses to protect your eyes from the light. Dr. K will use the handheld IPL device and move it directly along your body. Many patients are completely comfortable during their treatment, however, some have expressed feeling a light flick or snap on the surface of their skin.
The entire session lasts between 15 – 30 minutes depending on the size of the area being treated.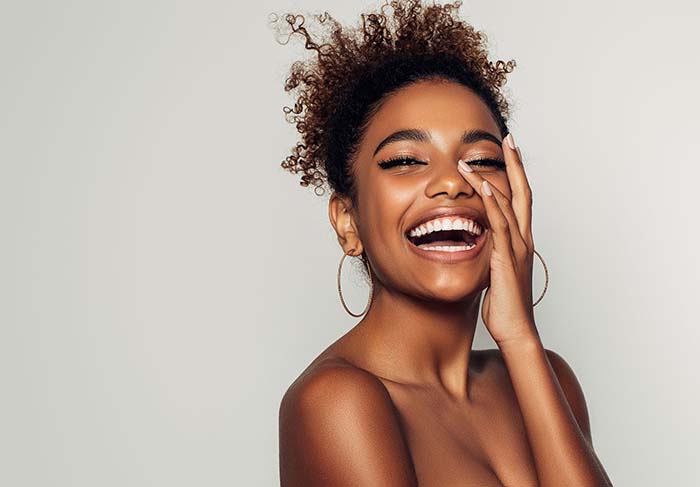 IPL Recovery
During the first 4 – 6 hours after your treatments, you will probably feel like you have a sunburn, but this discomfort can be alleviated with ice packs or a cool washcloth. You will notice that your skin is reddish and possibly bruised for the next few days, but it should dissipate after that. If you were attempting to remove your brown spots, there is a chance that they may get darker at first, only to peel off within a few weeks.
While you are healing, you should avoid wearing makeup as long as your skin hurts, frequently moisturize with an approved lotion, and protect your skin from the sun with a good SPF sunscreen, reapplying as frequently as necessary (usually every 2 hours). You should also use an approved cleanser to wash with as you will probably have sensitive skin.
On average, most of our patients are able to return to their normal skin care routine after about a week, but if you are unsure or have any questions about it, please give us a call.
Why Choose Dr. K?
At our boutique clinic in Las Vegas, conveniently located just West of the famous Las Vegas Strip, Dr. K Beauty is a top-of-the-line office that has multiple exam rooms. We are proud to offer the latest lasers and anti-aging technology. Our practice is owned and operated by Dr. Yekaterina Khronusova, MD (lovingly referred to as Dr. K), who is a board-certified in Internal Medicine and has been featured in "My Vegas Top 100 Doctors", and was selected as a Las Vegas TopDoc. She prides herself on her professionalism, communication, patient saftey, and exceeding patient expectations.
How Much Does IPL Cost in Las Vegas?
The cost of IPL Photofacial in Las Vegas is determined by several factors, but primarily the size of the area being treated as well as the number of sessions you will need. In order to get a better idea of how much your treatment will cost, you should come in for a consultation. After hearing your desires for the treatment and evaluating your skin, our Patient Coordinator will be able to provide you with a price breakdown for your full treatment.
Schedule Your Consultation
If you are interested in IPL Therapy in Las Vegas, look no further than Dr. K Beauty. You can easily schedule your consultation by calling us at (725) 500-9979 or requesting a consultation through our website. Our friendly and knowledgeable team is looking forward to meeting with you and helping you achieve that smooth, beautiful skin you've always dreamed of.
IPL PhotoFacial FAQ's
Is IPL painful?
There is a cooling feature in the handheld applicator to make you as comfortable as possible during your treatment, however, some patients do feel some mild discomfort when more sensitive areas are being treated, such as the upper lip. If there is any point in which you feel like you're too uncomfortable during your treatment, just inform the technician and they will be able to make adjustments.
How many appointments will I need?
You may only require a few sessions for most skin treatments, however, depending on the severity of the targeted area, it may be suggested to come back for additional sessions for the best results, with most patients needing 4 - 5. If you do need additional treatment sessions, they are typically spaced apart every 3 weeks.  Once you have your skin looking healthy and radiant, you will only need to return for touch-up sessions, which can be between 3 and 6 months depending on how your skin responds to the treatment.
How long until I see results?
You should see immediate results after your IPL treatment, and depending on how well you take care of your skin (i.e. proper cleaning, protecting it from the sun, etc.), you will be able to enjoy the results for 3 - 6 months.
Can I combine IPL with other procedures?
Of course! Many of our IPL patients in Las Vegas will combine their treatment with a PRF Facial for incredible results. If you are interested in combining other procedures, please discuss your aesthetic goals during your consultation and we will be more than happy to make the perfect recommendations to help you achieve them.
What are the risks associated with IPL?
Although IPL Photofacial is a very safe treatment, there are some potential side effects associated with the treatment, which can include, but are not limited to:
Blemishes
Blisters
Brown spots
Bruising
Crusting
Redness
Swelling
Sunspots
While most of these side effects will heal themselves over the next few days, if you have any concerning or long-lasting reactions, please contact our office immediately.
Reviews
Sometimes when I see all 5 stars, I get suspicious that they were paid for. This is NOT the case here. Dr. K has 5 stars because she deserves them. I love coming here and honestly I trust Dr. K completely. She is reasonable and fair in her pricing. She is extremely professional and goes out of her way to help you with whatever you need.
Truly amazing! I highly recommended Dr. K she is professional and experienced. I am thrilled with her work. Her knowledge and her honesty had me feeling very comfortable and all that I asked for. No pressure and all is explained before anything is done. Her staff is also very knowledgeable and comforting. You can't go wrong with an experienced doctor!
Dr. K was fabulous. She was very informative on the areas I needed fillers in and what would work best for me. I saw immediate improvement and am so happy with the results. I will definitely return and also refer her to my friends/family. I've been a resident of NV for 18 years and have yet to find an injector I like. I'm thrilled to have finally found one. She's a keeper.
Patient Stories
read more
Scroll left
Scroll right
Our practice
Patient Resources
We're here to help, with a number of patient resources designed to make your experience as comfortable as possible. Read through the materials below, and don't hesitate to reach out and set up your consultation to learn more about what we can do for you.